Montgomery's Jewelry – Family-Owned & Operated Since 1946
Montgomery's Jewelry offers you the ability to create an utterly unique piece of jewelry with your own gems or those specially chosen from our stellar selection.

Additionally, we can repair and re-size your precious jewelry. We also offer other services such as …
About Montgomery's Jewelry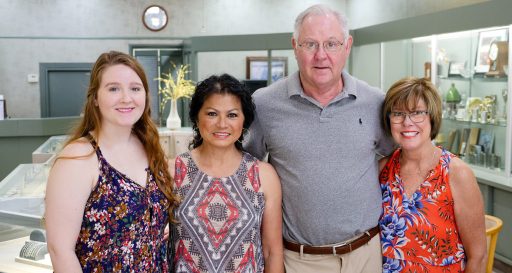 Montgomery's Jewelry was founded in 1946 by Woodrow Wilson "Blackie" Montgomery, and his wife Mary Livingston Montgomery. Mr. Montgomery started his career off as a watch repairman. He then progressed into carrying china and gifts, and eventually learned to do some jewelry repair work. The Montgomerys had four sons.
Their youngest son, Woodrow "Woody" Montgomery went to jewelry school and gemology school to become a jeweler. He attended jewelry school in Paris, Texas at the Texas Institute of Jewelry Technology and attended gemology school in Los Angeles, California at GIA (Gemological Association of America). While Woody was away at school, Michelle Sharp was hired.
Michelle learned everything she could from Mrs. Montgomery, and Mrs. Montgomery eventually made Michelle the manager and buyer for the store. When Woody returned from school, he and his wife Robin Nettles Montgomery bought the store from his parents, while his parents continued to work with he and his wife at the store. Robin learned how to keep the books and do the day to day accounting from Mrs. Montgomery.
Eventually both Mr. and Mrs. Montgomery passed away leaving the business fully in the hands of their son, Woody (jeweler and gemologist), his wife, Robin (book keeper), and Michelle (manager/buyer). Since they have passed, the business has continued to thrive and grow.
Woody, Robin, and Michelle all have roughly 40 years experience in the jewelry industry each. It is something they are all educated and passionate about.
Monday-Friday: 9 a.m.-5 p.m.
Saturday: 9 a.m.-2 p.m.
Sunday: Closed